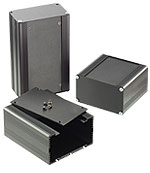 Product Description
General purpose enclosure case manufactured from aluminium extrusion section with a removable top cover to allow easy access for assembly and installation of component parts.
Specifically developed to offer a stylish yet robust off the shelf item within which to mount electronic circuitry and components.
The external surface of the enclosure incorporates a series of ribbed fins to aid heat dissipation, T slots have been provided on both the side and base of the enclosure proving mounting facilities.
Multi-position PCB slots have been provided inside of the enclosure case and will except eurocard size PCBs.
The enclosure case is supplied complete with 2 x 1.5mm aluminium end plates, 2.0mm thick aluminium top cover and stainless steel fixing screws.
Part No.

Length
(mm)

Width
(mm)

Height
(mm)

Material

Finish

E006/001
100
105
60.5
Aluminium Type
Black Anodize
E006/002
125
105
60.5
Aluminium Type
Black Anodize
E006/003
165
105
60.5
Aluminium Type
Black Anodize
E006/004
200
105
60.5
Aluminium Type
Black Anodize
E006/005
225
105
60.5
Aluminium Type
Black Anodize
E006/006
285
105
60.5
Aluminium Type
Black Anodize