Nu-tech Engineering have a highly motivated and skilled team of CNC turning and machining operators. Our engineers have built up a wealth of experience for standard & technically challenging component machining for a wide variety of industry sectors. Some of which include: Electronics, Marine, Communication, Materials Handling, Automotive and Aerospace.
Our extensive CNC turning and milling capabilities put us in a good position to provide a fast turn around for machined components and turned parts in most materials. They include: Aluminium, Brass, Stainless Steel and a wide range of Plastics.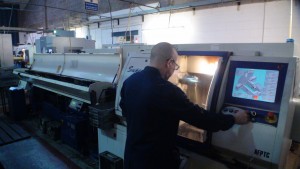 Our CNC turning facility is equipped with the following types of machinery:
Qty. CNC Lathes. With component size up to 280mm diameter
1 Goodway GS260M CNC Lathe with 4th Axis capability.
1 Goodway GLS200Y CNC Lathe with 4th Axis capability.
1 Star SR20J Sliding Head CNC Lathe with C Axis with and six tool stations.
1 Superswift multi contouring machine with magazine bar feed.
1 Ecoca SJ30B CNC Lathe. 280mm diameter capacity.
4 Ecoca SJ25 CNC Lathes. One with 280mm diameter capacity, one with 200mm diameter capacity and magazine bar feed, one with up to 180mm diameter capacity and one with 100mm diameter capacity).
2 Ecoca MT208MC CNC Lathes. 210mm capacity.
1 Ecoca SJ20MC CNC Lathe. 200mm dia. capacity. Magazine bar feed.

We can provide cost effective machining:
On bar feed parts up to 32mm diameter in batch sizes of 50 – 5000
On chucking work parts up to 220mm diameter
Up to a maximum length of 1 Metre between centres
To receive further information or a quotation please contact us.